Posted by Malinda Kapfhammer on 6th Nov 2014
Choosing Your Wedding Veil Part I
Nothing transforms a beautiful gown into a bridal ensemble quite like a veil! Most often you "feel like a bride" only when that beautiful veil is placed on your head. But how do you choose the best veil for your wedding day?
First of all, consider the length...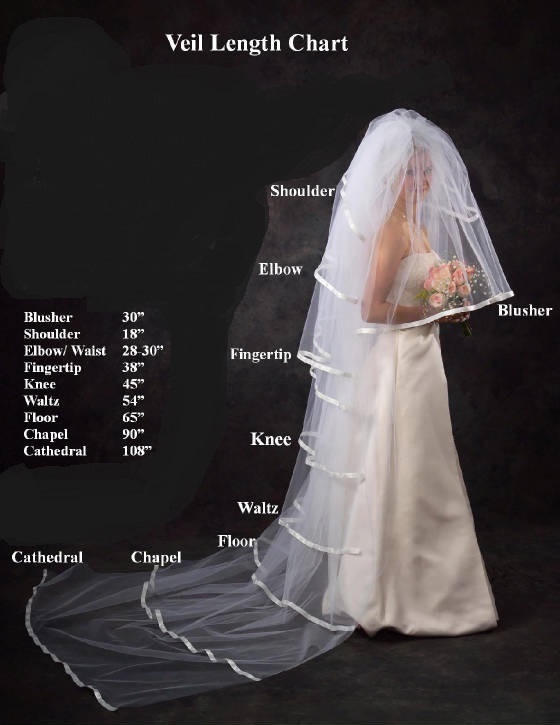 Thanks to JL Johnson Bridals for this veil length chart. It illustrates the most popular veil lengths and gives their approximate measurements.
When choosing the length of your veil, you'll want to consider:
how formal the ceremony will be - there used to be all kind of "rules' to follow in wedding planning - such as how formal the ceremony should be for different times of the day - and the length of the veil for different ceremony types - but now it really is the preference of the bride. From birdcage veils to cathedral length veils, the choice is up to you and the feel you want your ceremony to have. To add a touch of drama and romance, wear an extravagantly decorated cathedral length veil like this!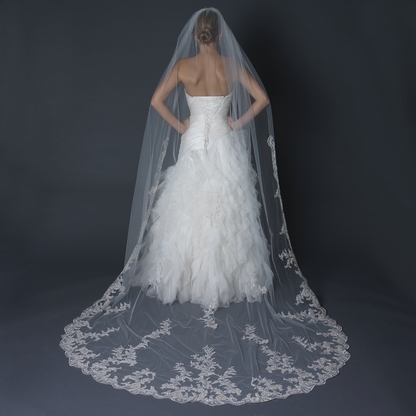 indoor or outdoor ceremony - again, the choice is yours but you might want to consider the ease of wearing a veil at your outside venue. Will it be windy? Will a long veil be hard to manage or to keep out of your face? If so, you don't have to sacrifice elegance in choosing a birdcage veil such as this one!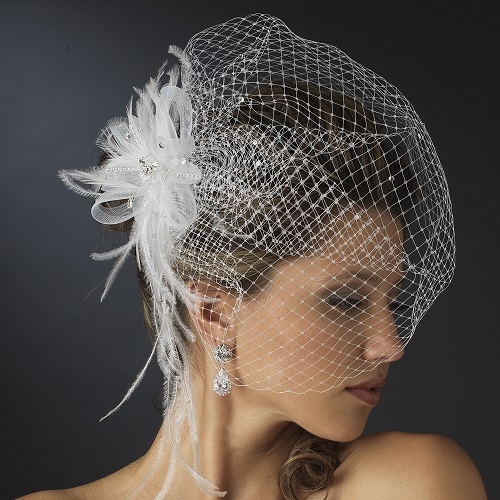 For those who want to wear a birdcage veil and make sure it doesn't slip - there's the veil and headband combination - like this one!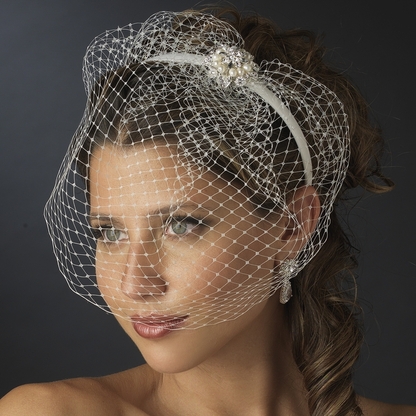 the details of the back of your dress - you want to be sure the veil you choose allows everyone to see the details of the back of your dress. You want the veil to fall above or well below the detailing on your gown so the veil doesn't cover the detailing and doesn't compete with it for attention. This picture of a knee length veil by Ansonia Bridal illustrates this well - the veil falls well below the empire details of this gown and adds to instead of hiding it's decoration.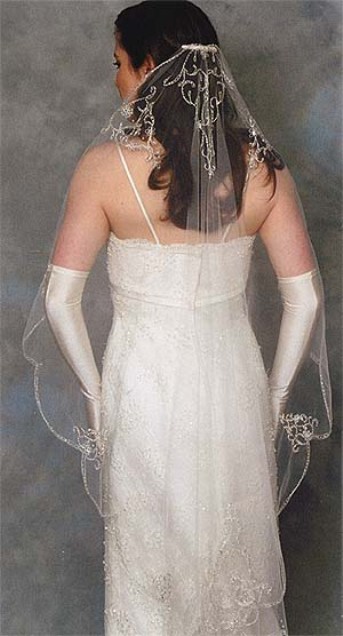 your height - the designations of elbow length or fingertip length are relative to your height. If you are quite petite or very tall, you might want to have someone measure the length from where you will wear your comb to where you want the veil to end. For example, for a very petite bride, an elbow length veil just might reach her fingertips.
where you will wear the comb - the length of veil you want will also be affected by where you want to wear the comb - at the top or back of your head. The veil will fall to a different place at your back if you wear it at the top like this: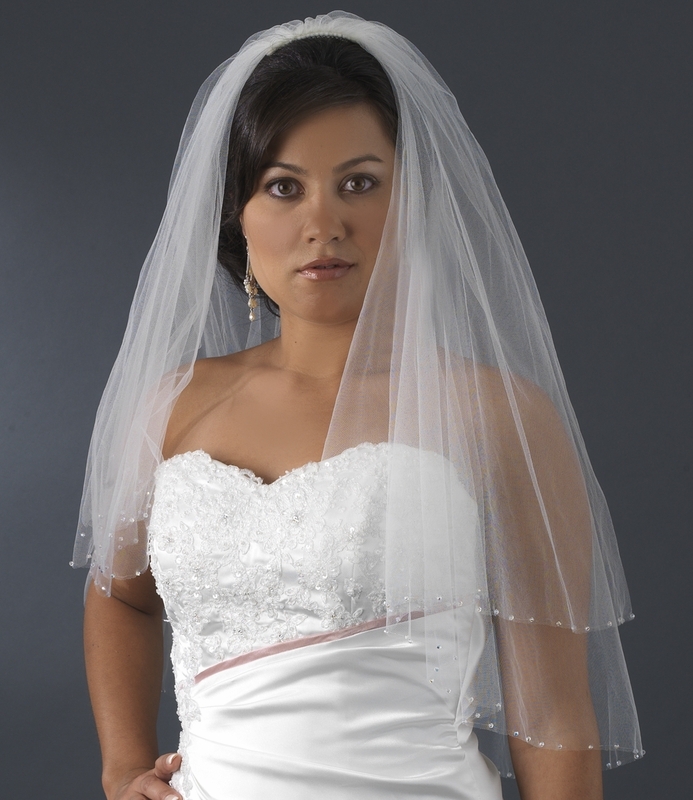 or at the very back: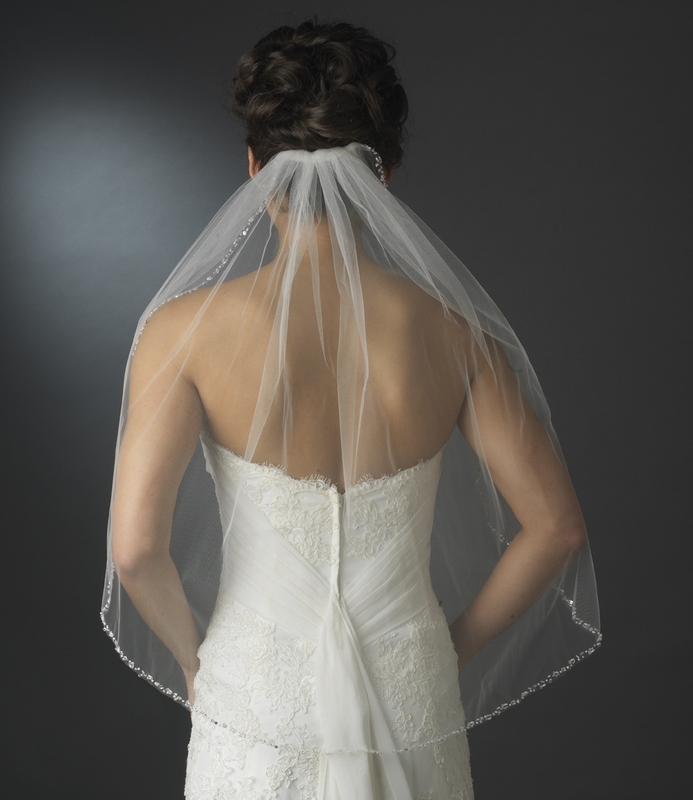 or somewhere in between. Again, you might have someone measure for you the length from where you are wearing your comb to where you want the veil to fall at your back.
do you want a blusher? a top layer to your veil can serve as a blusher for your walk down the aisle. This tier is usually about 30" long in order to completely cover your face. Many of our two layer veils are circular cut or foldover styles like this Style v5332 in which the top layer can be your blusher if you choose to wear it that way.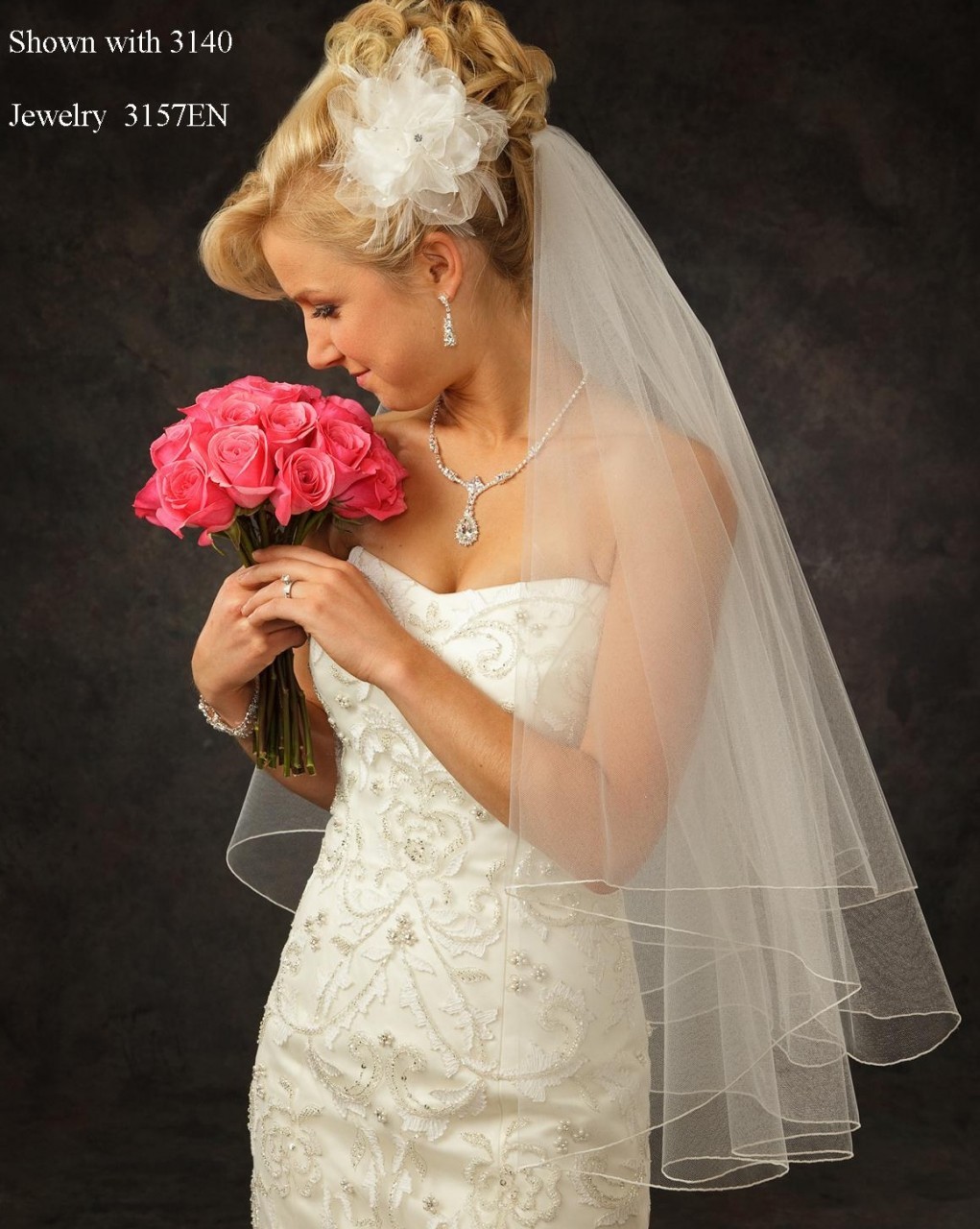 Or if you choose a one layer veil instead, you can often add a blusher layer either on the same comb, a different comb or on a velcro strip to be placed on top of the comb.
I hope these tips have helped you in making your veil decision! If you need assistance in finding the best veil for your wedding day, please email or call us - we'll be happy to help. Many brides choose to email us a picture of their gown so we can assist them in choosing a veil - we love helping in this way! Just email pictures to malinda@affordableelegancebridal.com.
In our next blog, we'll give some tips for choosing the color, edging and decoration of the veil...