Posted by Malinda Kapfhammer on 3rd Feb 2016
Tips for Choosing your Wedding Veil Color
"Will this veil match my dress?" - this is the question we're asked several times a day at Affordable Elegance Bridal. And it's a good question. You usually want the color of your veil to be very close to the color of the gown. If not - the veil - or the gown - could look a bit dingy. Many brides email us a picture of their gown for color reference, but computer monitors are notoriously bad at accurately depicting color. AND (besides white) there are no standard colors in bridal wear. So here's a little help...
The most common veil colors are white, diamond white and ivory.
White: If your gown is white, your answer is clear - almost all our veils are available in white - and "white" in a veil will mean true white.
Diamond White: If your gown color is "Off White," Silk White," or "Diamond White" then a diamond white veil is a good option. Diamond white in a veil is between white and ivory and is usually just a shade off white. If your gown's color is "Ivory" but it looks white to you - then diamond white is probably your best option.
This happened to my daughter, Lauren. Here's her gown and veil: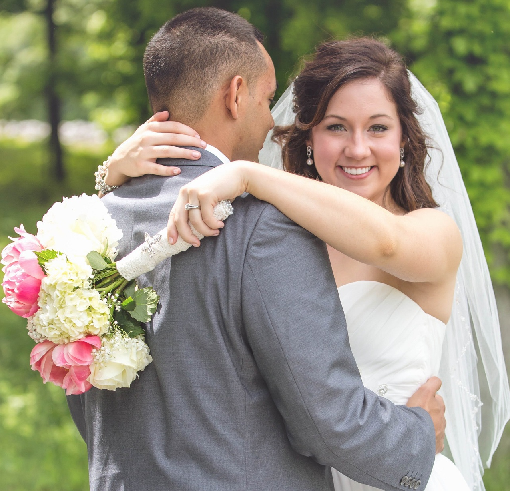 Lauren's gown color is ivory. (We actually thought it was white the whole time she was trying it on!) We had to put a piece of white paper against it to see that it wasn't white. We chose a diamond white veil from JL Johnson Bridals and it matched perfectly!
Ivory: If your gown color is Ivory and the gown looks ivory to you, then an ivory veil is probably your best option. Ivory gowns have been made lighter and lighter for the past few years, so sometimes an ivory gown matches best with a diamond white veil as shown above.
Specialty Colors
Want a little more color in your veil? You're in luck! At Affordable Elegance Bridal you can find specialty color veils with blush, butterscotch, champagne, black, grey, oyster, pink, and rum pink tulle!
Like this v4903 veil in shades of pink: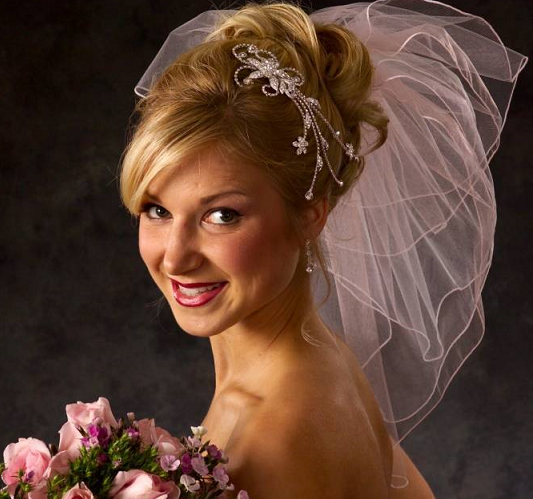 Want a tulle sample? Just email us and we'll mail one to you!
You can also find many specialty color veils with trims in gold, silver and rum - like this gorgeous new gold and silver cathedral veil v4468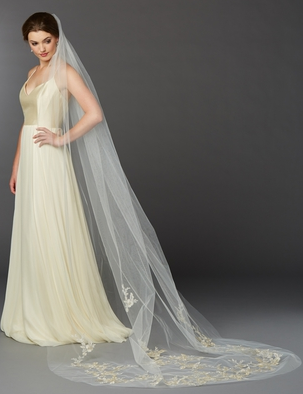 I hope this helps you choose the veil of your dreams. We are always available to answer your questions - just contact us!